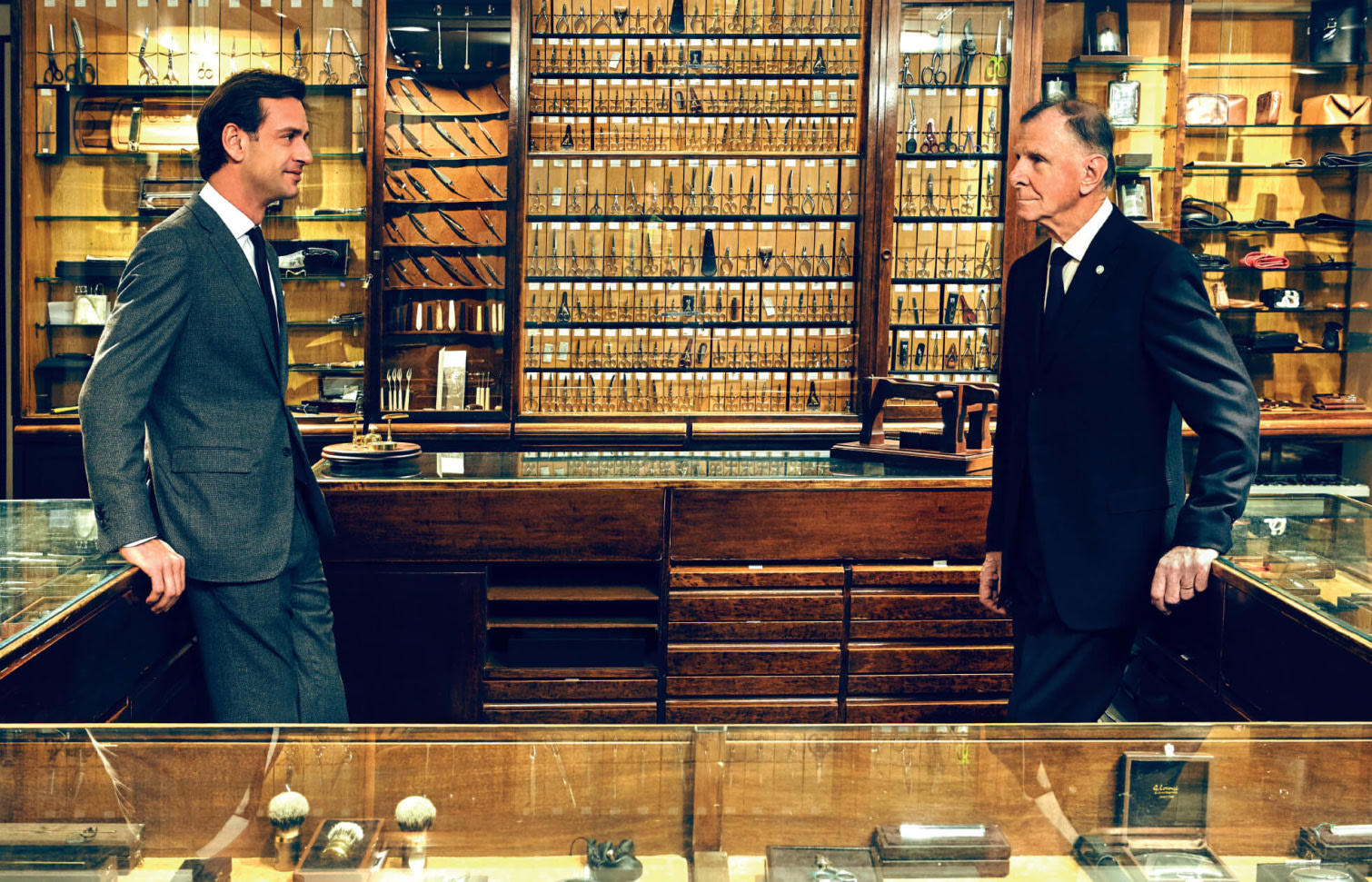 Guglielmo Miani and Aldo Lorenzi: the natural and brilliant elegance of two men who play with the essence of style and break the rules.
The wide range of Aldo Lorenzi's exquisite accessories: from knives to desk accessories, smoking and toiletry articles to shaving kits, each piece is made by hand by expert artisans using carefully selected natural materials, a perfect union of form and function that fits perfectly with Larusmiani's fine tailoring and obsessive attention to detail, pure excellence and craftsmanship of the "authentic handmade".
Me and Guglielmo have elective affinities, so much we love our work and we are curious and active. We are hungry, that same desire and enthusiasm to do – Aldo Lorenzi
Guglielmo Miani talked in depth with LUISAVIAROMA.COM about the creative collaboration.
What was the starting point?
When the cutlery closed in February 2014 I was particularly crushed by the closing and I decided to write a letter to Mr. Lorenzi; I told him I would not accept the closing of G Lorenzi, we just couldn't allow it to disappear. I worked hard to convince him, but we connected immediately and he finally entrusted me the responsability to carry on his legacy.
What have you learnt throughout the creative process?
The two brands fit perfectly and I am finally creating new products in the Lorenzi vein, but with theLarusmiani label, as well as continuing with many classic G Lorenzi pieces. It's the best of the best and we offer a unique assortment, it's an incredible world that really fascinates me.
To make things right, as my grandfather said, it takes experience and time …  – Aldo Lorenzi
The collaboration truly represents a balance between tradition and innovation. How have you managed to translate both brands for a contemporary audience?
Through research and technology, both in terms of textiles and materials, we only use the best craftsmanship and tailors for our products. Through new and traditional media we can vehiculate our world of hand made in Italy and obsession for details, an aspect that today, more than ever, is appreciate from our customers and that we keep as main values since my grandfather founded the company in 1922.
What do you hope that people take away from the collection?
We want to transmit the passion and the beauty that only a real Gentleman can understand and appreciate. 
Why do you feel the designs would make wonderful gifts?
The LORENZI by LARUSMIANI accessories are made with the best natural materials and they are all artisanal, the market offer plenty of products, but none of them is timeless and a piece of art itself. What we sell at LORENZI is an heritage of research and passion, every single item is the best of its category.
Young men are getting more keen on details and Grooming cannot be left to the case. This new interest presents an incredible opportunity for LORENZI by LARUSMIANI. – Guglielmo Miani
Special thanks to Guglielmo Miani and Aldo Lorenzi
Images courtesy of Larusmiani
This interview has been edited and condensed
Tags: designer focus