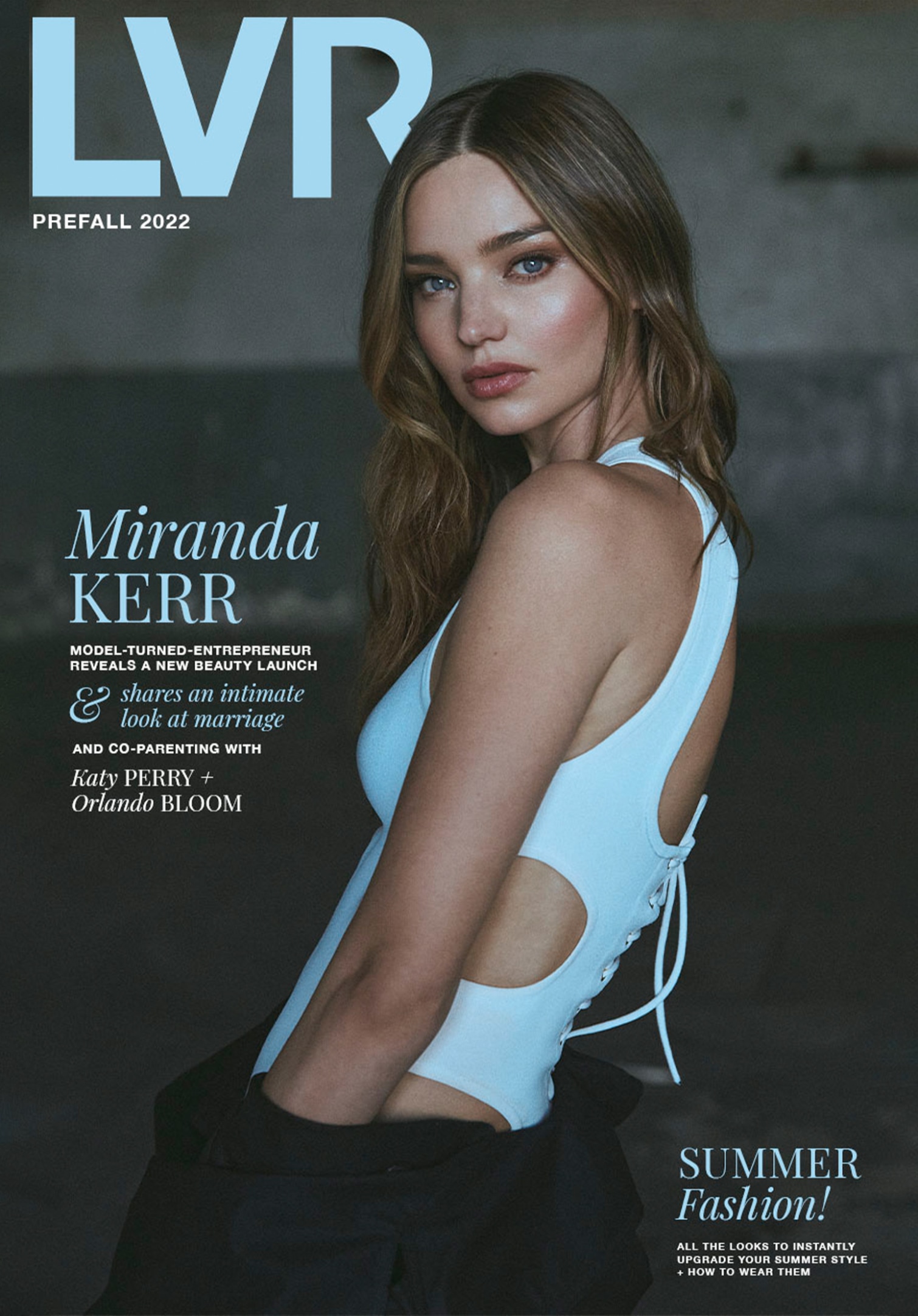 SUSTAINABLE Shifts
Sitting down with our cover star Miranda Kerr hits like a sound bath of positive energy.
Ethereally beautiful and poised as she is, the most compelling part of speaking with the model-preneur is her wash of grounded positivity and conviction to a healthy, sustainably oriented lifestyle. It's precisely that personal passion for inner and outer wellness that drives the work she does with her latest venture, Kora Organics. Kerr's sustainable beauty line is now expanding its range of socially and environmentally conscious skincare products that, as she explains in Good Vibrations, are as good for the Earth as they are for your skin, highlighting that "[Kora] capitalizes on the connection between mind, body and skin. The products feed your skin with nutrients and renew you energetically."
As Miranda intuits in her recount of the journey to launch Kora, rarely before has the connective tissue between how we live and the impact of that lifestyle on the world around us been so urgently in need of regeneration. After more than two years of being forced to live differently — and virtually — we've triggered a palpable moment of commonality of purpose in driving a value shift in how we consume: where we spend our time, our money, and what we put into our bodies. Consumers, particularly Millennial and Gen Z shoppers, are leveraging their immense purchasing power to support products infused with sustainable and socially conscious value systems with which they align. In our feature story, Why Investment Dressing Remains the Most Sustainable Option, we examine industry leaders' new thinking around the idea of circularity in fashion and how that notion may be game-changing to a sustainable consumption model. It's a thought-provoking look at why an emphasis on quality over quantity remains a sustainable beacon of consumption in our fast-fashion world.
Those living in crisis must become pioneers of a better age.
British philosopher Arnold Toynbee once said that "those living in crisis must become pioneers of a better age." If this issue is any indication, we have reason to find optimism in the talented and disruptive thought leaders championing the call for change, many of whom we chronicle throughout these pages.
In a similar bout of optimism, it's also been said that times of crisis breed moments of genius. The pre-fall '22 collections lay testament to that thinking, with designers offering dynamic new looks that are big on sex appeal, sleek silhouettes and look-at-me color combos. I always love pre-fall because it's a point in the year in which hyper-directional ideas from the spring/summer runways are distilled into highly wearable iterations ripe for heavy rotational play in a more practical wardrobe. In other words, it's very user-friendly.
To aid you in the discovery of your own new look, our editors compiled a comprehensive Pre-Fall: Trend Guide to break down the best pieces of the season, along with a range of pre-styled options to reference along the way as you inspire a genius all your own.
Enjoy the issue!
XX

Special thanks to:
Greg Swales, Jaclyn Bloomfield, Luisa Soto, Madison Terry, Roxanne Robinson, Kendall Becker, Jeff Thibodeau, Andrea Panconesi, Tommaso Buti, Annagreta Panconesi, Luisa Panconesi, Alessandra Rossi, Giulia Boeri, Dianne Pogoda, Caitlin Kelly, Sabel Massingill, Yanick Fausto Pesta, Daniele Terzi, Valentina Barbetta, María Iglesias García, Fernanda Hernández, Samira Kahlouche, Flora Baibolova, Niko Sandelin, Marta Gramaccioni, Giulia Coppola, Allegra de Leon Delli, Elena Ciulli, Krizia Bianchi Fasani, Alessandra Caruso, and Serena Del Signore.