LUISAVIAROMA and kid's wear Magazine invite creative kids to let their imagination soar!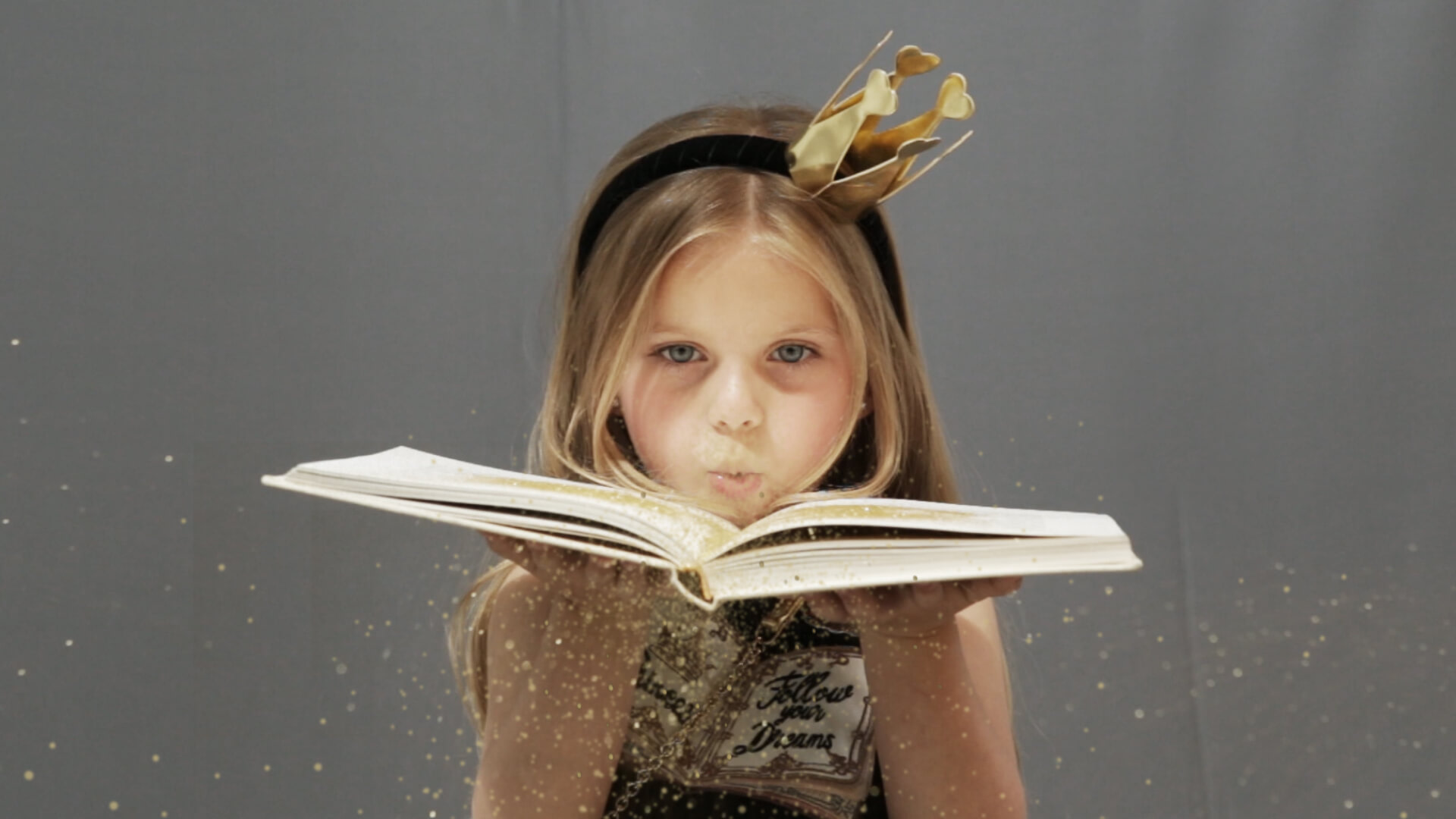 Launched in 1995, kid's wear Magazine was envisioned by Founder Achim Lippoth to cover children's fashion, lifestyle and culture in a whole new way. His dream was to bring fashion's foremost artists, photographers and writers together twice a year create a magazine so beautiful it becomes a collector's item. Twenty years later, kid's wear Magazine is widely regarded as one of the most important bi-annual publications in children's fashion and lifestyle. In September 2016, the Magazine will introduce kid's wear Living, a guide to lifestyle and contemporary design for children. LUISAVIAROMA spoke with Editorial Director Ann-Katrin Weiner and Deputy Editor Petra Barkhof ahead of the launch.
Can you describe in your own words what 'kid's wear Living' is?
P.B.: It's a world of unconventional stories, unique toys and accessories, that is growing ever faster. A guide to lifestyle for cool, playful, adventurous kids and parents who are conscious about quality and functionality.
A-K.W.: kid's wear Living is special view into the world of design for children,  young and old ones.
Why now?
A.-K. W.: Because we felt in love with it!
P.B: A children's universe is magic, full of dreams, color, excitement and fun. We wanted to explore that further.
Are there any brands that have caught your attention in particular?
A.-K. W.: Kartell, for the launch of its first ever kids collection…intrinsically, playful and fun.
P.B: Nidi for their excellent quality and their humorous communication.
What elements are essential when it comes to decorating for children?
A.-K.W.: In the end, it has to make you smile.
P.B.: For me, I like to feel enchanted when entering  a child's room, a bit like Alice in Wonderland.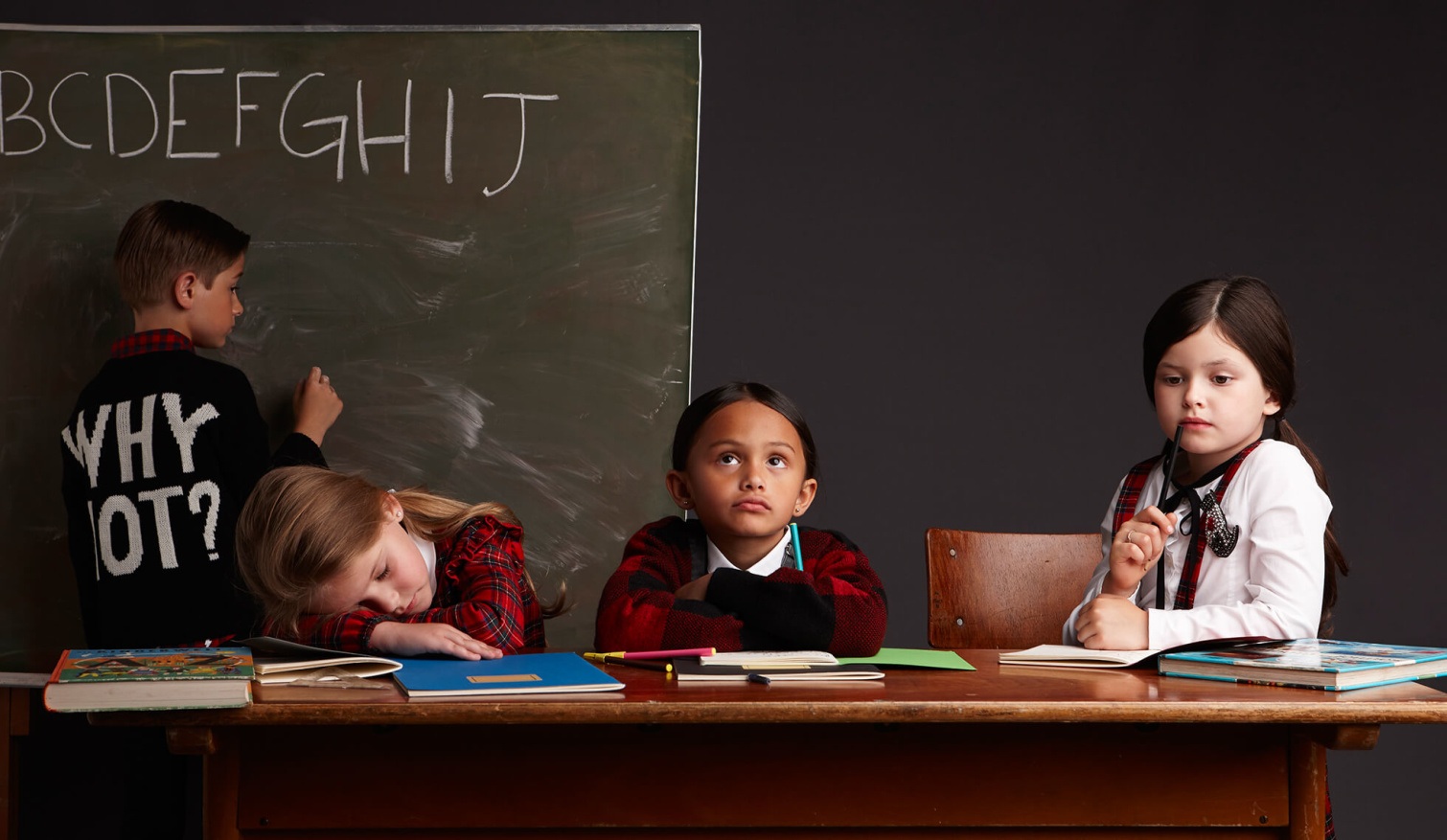 From school to beyond, Fall/Winter 2016 is about exploring the creativity of kids with big imaginations. If the classroom is dull, don't let their wardrobe be! Jazz up the back-to-school uniform through classic pieces with a contemporary twist. A creative backpack, plaid print and separates from Vivetta, MSGM, Chloé and more are great options from classroom to playground. Childhood fantasies are once in a lifetime moments, so dust off the storybooks and indulge their creative senses. Who knows? Maybe your inner child will come out to play too.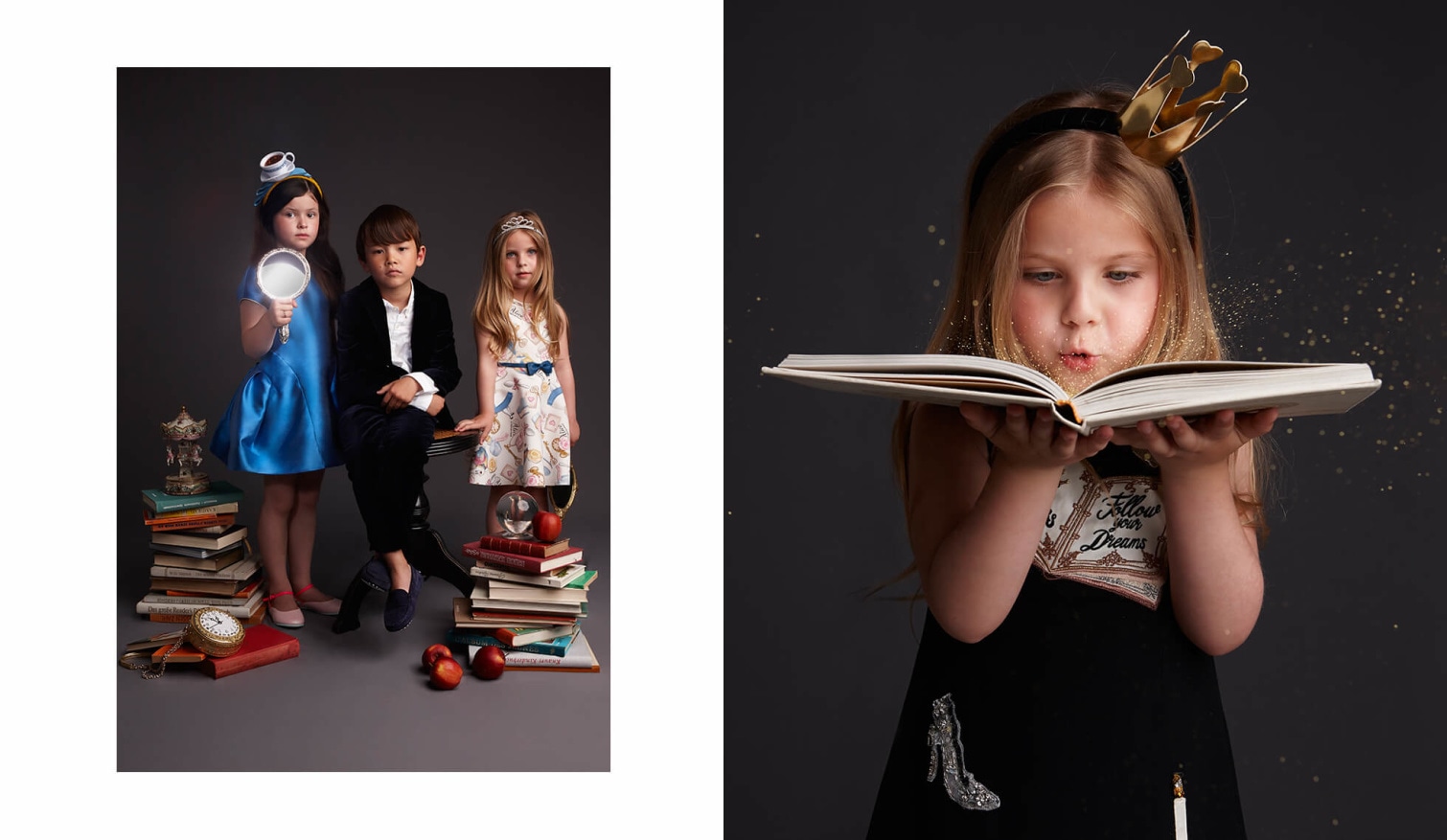 Mirror, mirror on the wall, who are the best dressed kids of Fall? Fall/Winter 2016 takes fashion over the river and into the woods with fantastical collections from Dolce & Gabbana, Fendi and more. The choice is hers: Cinderella story, Alice in Wonderland, or Beauty and the Beast? Whatever the choice, indulge in the dream and live the fairytale in playful clothing and accessories that have more than a hint of fairy dust.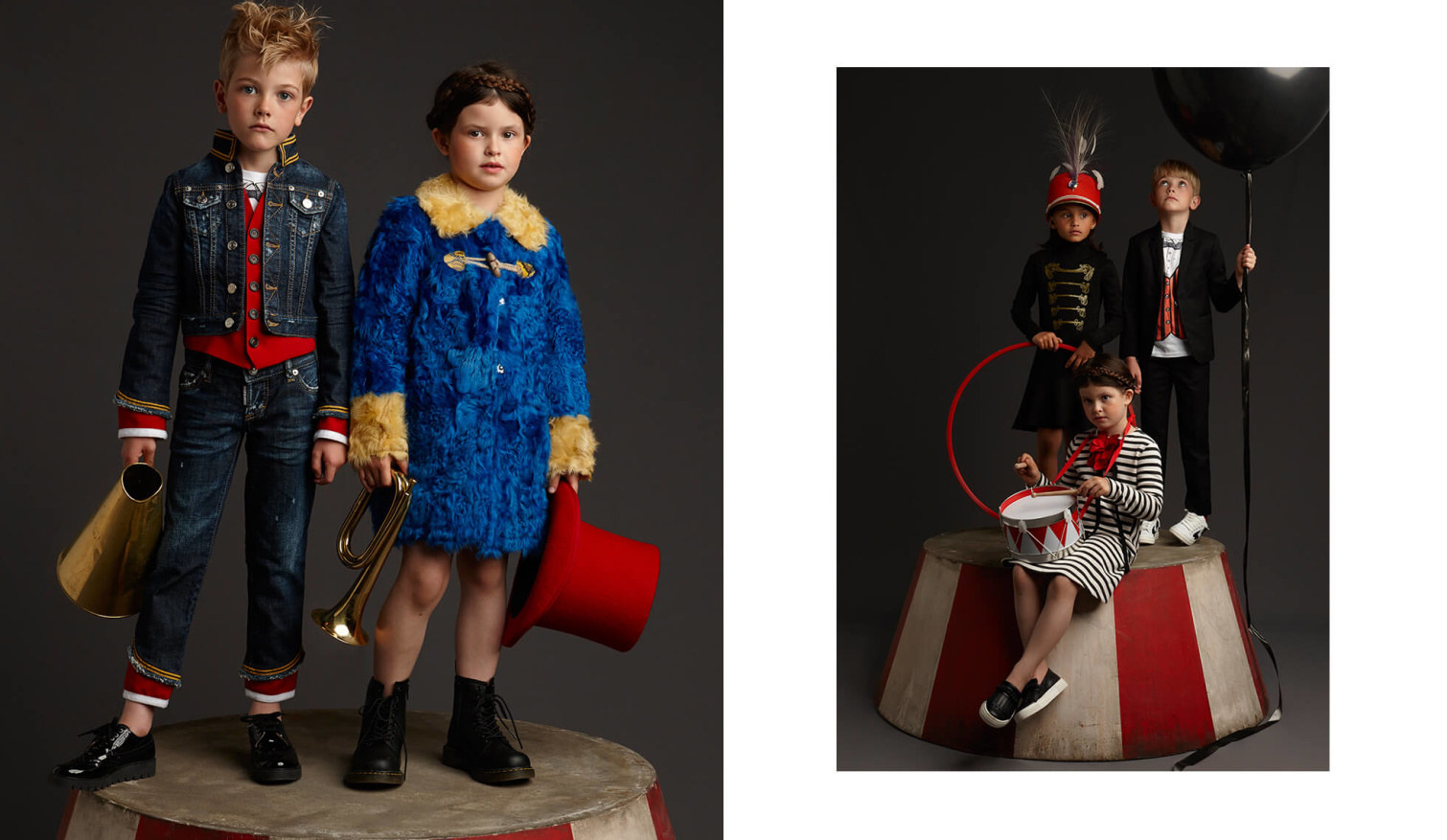 Come one, come all! Gather the act together with playful stripes and wild textures. For aspiring ringleaders, lion tamers, fire breathers, and gymnasts, the show must go on! Give the audience a spectacle in primary colors, interesting embroidery, buttons and stripes. Dsquared2, Mimisol, Simonetta and more provide beautiful, theatrical pieces that can be worn onstage and off.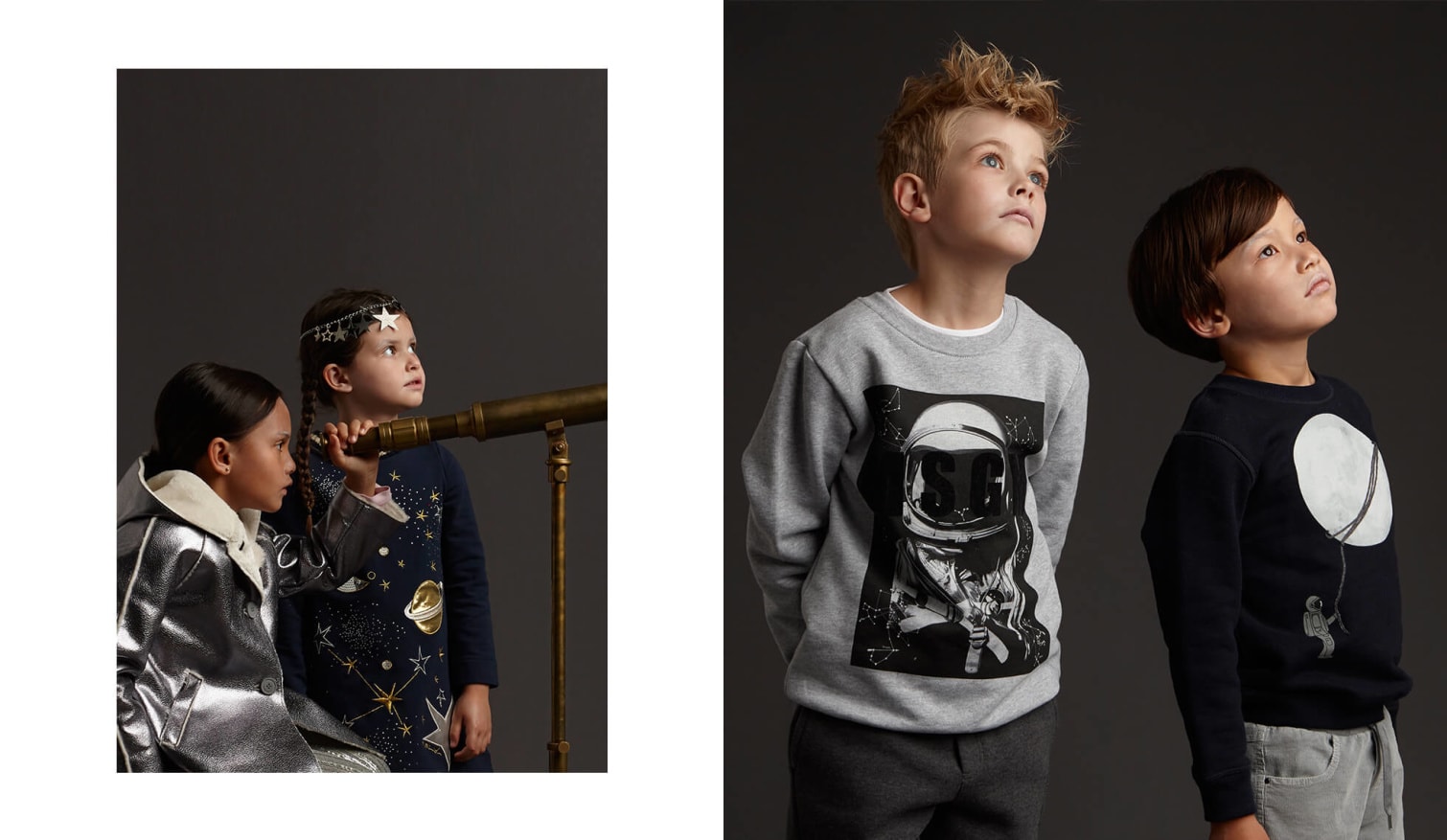 Beyond the moon and beyond the stars lies a universe of big adventure. For aspiring astronauts, astronomers and star gazers, the opportunities are endless. Space age metallics and glow-in-the-dark clothing from Il Gufo will get their imagination going while separates and accessories from Diesel Kids, Golden Goose Deluxe Brand and more complete the look. 3,2,1 takeoff!
Photographer: Achim Lippoth @kidswear
Models: Mira-Linn, Marie-Gloria, Lillith, Joshua, Bennet, Jacob
Hair: Nicole Gnauck
Special thanks to: Ann-Katrin Weiner & Petra Barkhof @kidswear
Tags: editorials