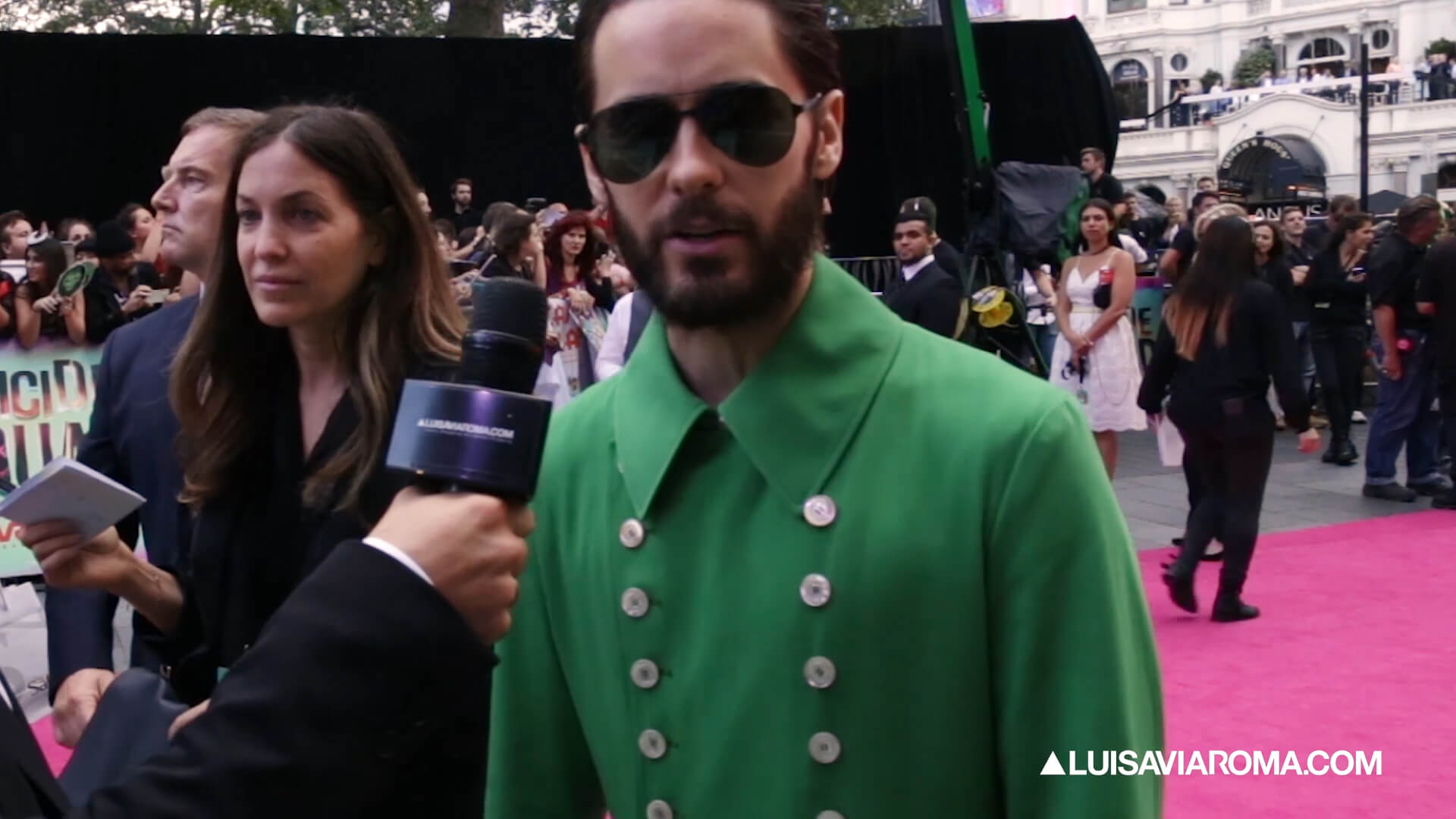 The joke's on you if you think there is anything funny about Jared Leto's take on one of DC's most notorious villains. LUISAVIAROMA caught up with the star of Suicide Squad during the film's European premier.
Charismatic and borderline lunatic, Jared Leto brings his own brand of cool to the film, adding a level of complexity to the menacing Joker that is sure to win over audiences.
Leto follows in the footsteps of Hollywood heavyweights Jack Nicholson and Heath Ledger, who received an Oscar posthumously for his work in The Dark Knight (2008). "It's such beautiful work," he says on his predecessor's performances, "that out of respect for that you have to walk down a completely different path." His commitment to meeting this challenge was clear from the moment he stepped on set and comes as no surprise.
Jared Leto has put out a movie almost every year since 1992, impressive when you take a look at the success of his music career and band Thirty Seconds to Mars. His numerous leading and supporting roles includes cult classics like Fight Club (1999), Requiem for a Dream (2000), American Psycho (2000) and Dallas Buyers Club (2013) have earned him a loyal following and saw him take home both an Academy Award and a Golden Globe for the latter in 2014.
There is no doing things half-way, whether it be putting out a new album –slated for release in 2017- or a recent collaboration with Carrera Eyewear. A fan of the Italian eyewear brand from an early age, Jared Leto is the face of the Spring 2016 campaign and the star of the Carrera Maverick Movie. An exciting project aimed at celebrating creative talent. "It's great to be able to take the camera and turn in on artists, athletes, and these incredible individuals around the world," he said about the experience.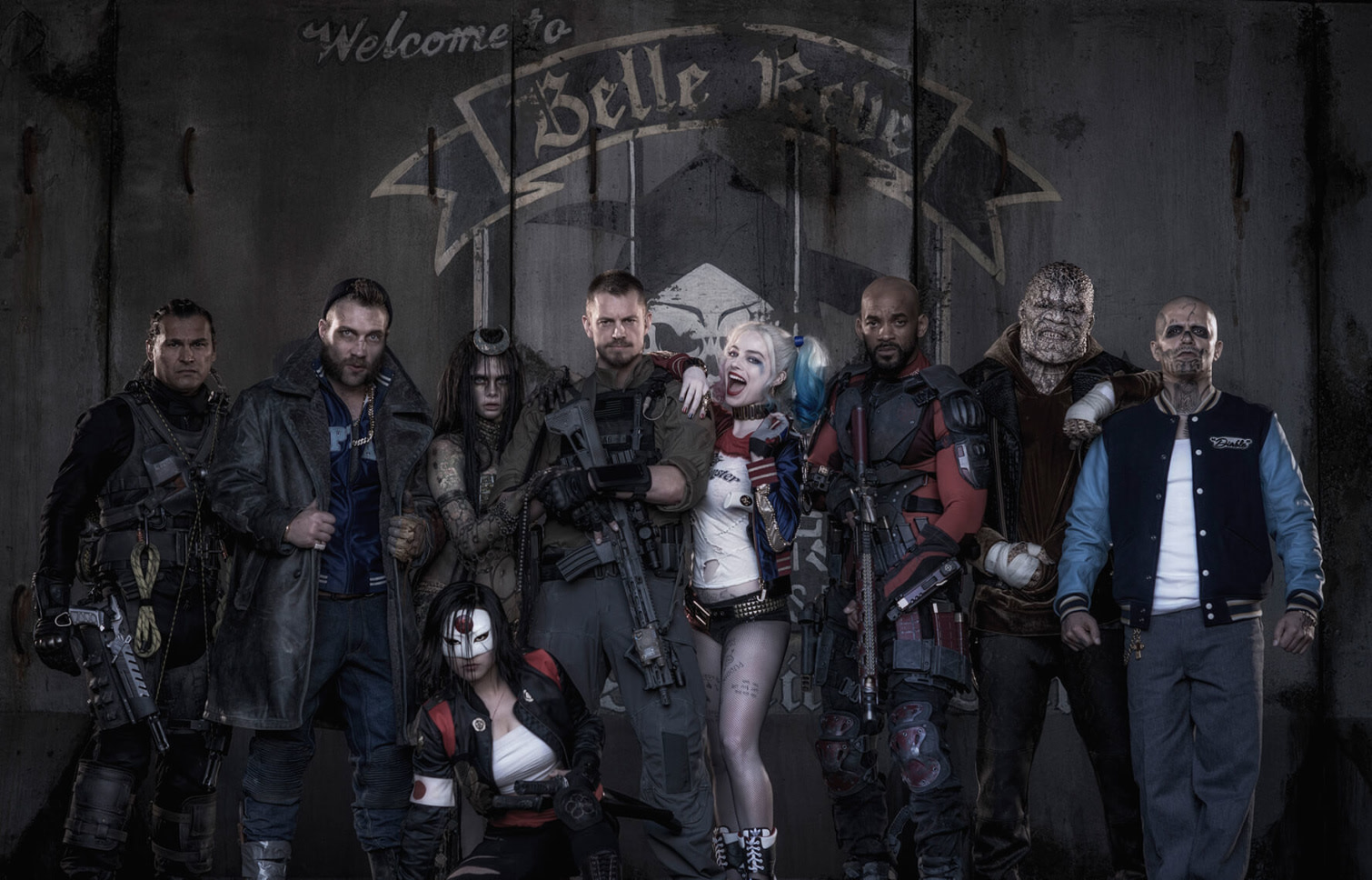 What do you do when you need someone to save the world and the good guys are gone? You put together a team of the baddest, swankiest supervillains and send them on a suicide mission.
Adapted from the comic of the same name, Suicide Squad, written and directed by David Ayer and distributed by Warner Bros. Pictures, is the third installment in the DC Extended Universe.
Set in a future where heroes like Batman and Superman no longer exist, the film takes place in the fictional city of Midway City and sees a motley crew of prisoners – Jared Leto (The Joker) Will Smith (Deadshot), Margot Robbie (Harley Quinn), Jai Courtney (Captain Boomerang), Jay Hernandez (El Diablo) and Adewale Akinnuoye-Agbaje (Killer Croc) – come together to save the world. The titular team is made up of one of the most exciting and eclectic ensemble casts we have seen in a while, which also includes Cara Delevingne (Enchantress), Viola Davis (Amanda Waller), Joel Kinnaman (Rick Flag) and surprise appearance from the dark knight himself, Ben Affleck. Only in the world of Suicide Squad could a mercenary with morals, a baseball bat-swinging former psychiatrist and an archeologist possessed by ancient sorceress end up on the same team. What Ayer achieves with the film is a zany combination of carefully choreographed chaos and high-octane action punctuated with sharp colors and a stellar soundtrack.
I want to put together a team of the most dangerous people on the planet, the worst of the worst, who I think can do some good– Amanda Waller
The right soundtrack often has the ability to make or break a film, a climactic moment or action scene would fall flat without the track that supports it.
This is where Suicide Squad excels. A variety of genres, both old and new school make an appearance on the official soundtrack, which includes an original track from Rick Ross and a collaboration between Lil Wayne, Logic, Ty Dolla Sign and X Ambassadors. Honorable mentions also include Eminem's "Without Me" and "Fortunate Son" by Creedence Clearwater Revival.
If you only see one superhero (or antihero) film this summer, make it this one. A truly wild ride, Suicide Squad has enough of the original source material for DC newcomers, with a few added surprises to keep lifelong fans on the edge.
Credits:
Special thanks to Carrera
Images courtesy of Warner Bros. Italia
Video courtesy of Carrera and Warner Bros. Italia
Playlist courtesy of Deezer Italia
This interview has been edited and condensed.
Tags: culture