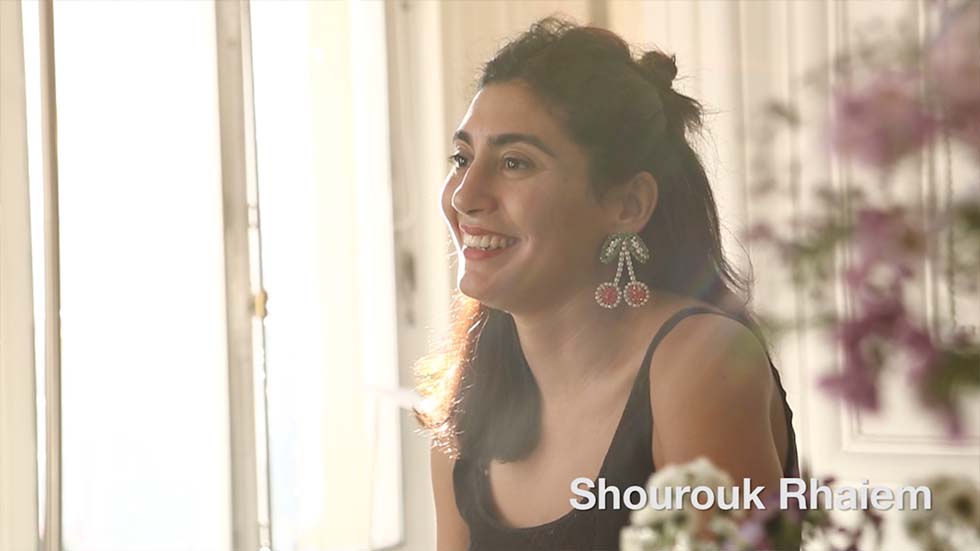 Indisputably one–to-watch, we sat down with Shourouk to hear her thoughts on fashion, music and what the future holds.
Shourouk Rhaiem established her eponymous label after building her name for herself at following Chloe, Galliano and Roberto Cavalli. A fashion-crowd favorite, Shourouk continues to go from strength to strength and has graced the pages of some of the world's most-famous fashion publications.
Although she does admit to blasting certain songs in the studio, when it comes to work the Paris-born creative tends to forgo music in favor of focus. She cites M.I.A amongst her go-to artists alongside Indian tracks like Jimmy Jimmy, that played a huge part in her childhood.
For her Spring Summer 2015 collection Shourouk looked to "the girls from the 50's, channeling their "elegant but funny style through the application of vibrant stones, Swarovski crystals and the brand's signature hand-craftsmanship. Floral forms and fruity details were heavily featured giving each of the pieces a distinctly feminine feel.
It's no surprise the brand has been a huge success, the Paris-born designer's charming and warm demeanor alongside her wearable works of art have garnered a following worldwide. She says of her approach, " I always play. I never take myself seriously. The sincerity of what I am doing made my success. There is a lot of honesty in what I am doing .
This refreshing outlook is exactly what makes Shourouk so appealing. She designs playful pieces that women want to wear providing a much needed retreat from the dark palettes so many designers are embracing this season.
When we asked about what was next for Shourouk, Rhaiem simply responded "I am super on the present. I want to live in the present. Either way, the future sure looks bright for the Parisian designer who is currently developing her Fall Winter collection.
Tags: sound of style