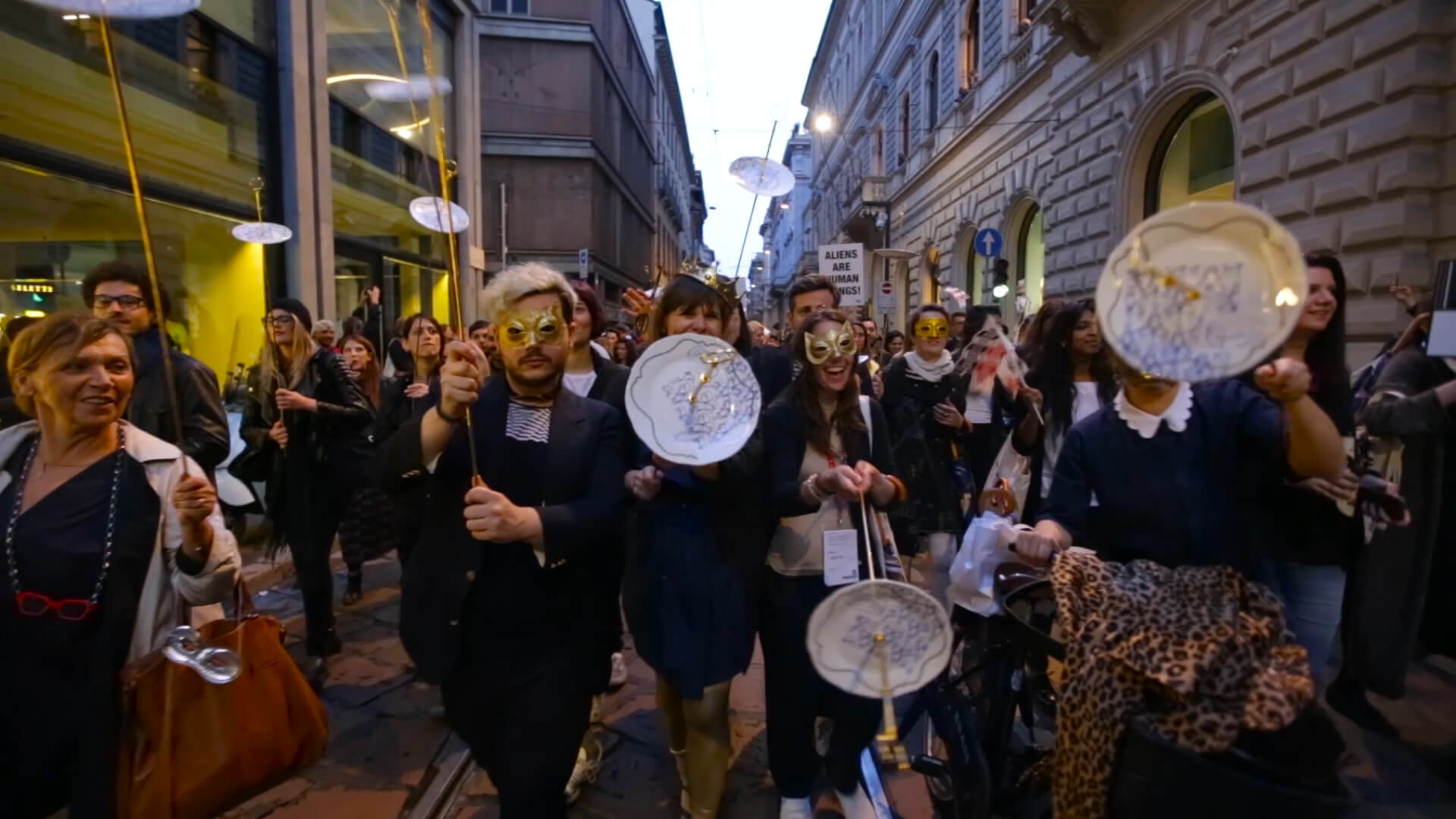 A week after Design Pride 2016 took to the streets of Milan, LUISAVIAROMA met up with Stefano Seletti, the visionary Creative Director leading the (R)evolution.
We're sure this is just the beginning…
April in Milan means Design Week. This year over 372,000 people descended on the northern Italian city for Salone del Mobile, the design industry's most important international tradeshow. While 2,407 brands put their best ideas on display to the world inside Salone, Seletti took the conversation directly to the streets, staging the world's first Design Pride parade.
The man behind the movement? Stefano Seletti, Creative Director of Seletti.
Bringing together Milan's hottest design personalities with 3,000 of the city's coolest citizens, the parade was led by a car carrying a reproduction of Maurizio Cattelan's giant middle finger statue ("L.O.V.E."), ending with an all-night party in piazza Affari, home of the Italian Stock Exchange
Seletti explains, "Design Pride 2016 was a new way of presenting ourselves. In our era, people take to the streets to protest. We did it to celebrate a new way of communicating by giving young people in design the chance to have greater visibility." Another highlight of Italy's resurgence in creativity and innovation, Design Pride 2016 made a thought-provoking public statement about the politics of design and the design of politics.
DESIGN (R)EVOLUTION
Milano is not only fashion
The parade itself was a visual spectacle. Taking an ironic attitude toward the design industry as a whole, picket signs were emblazoned with slogans like "Stop Private V.I.P. Parties!" and "I like turtles but also design week". Contemporary art's enfant terrible Maurizio Cattelan joined the crowd on his bicycle while architect and designer Fabio Novembre carried a sign that said, "I'm here for the gangbang." Designer Marcantonio Raimondi Malerba—creator of Seletti's monkey lamp series—showed off his talent for fire-breathing while Gufram sent its collection of giant red lips, life-size orange cacti and green 'Pratone' chairs wheeling down the avenues. Not one to miss out on the fun, Mr. Seletti appeared in crowd flashing peace signs and making his own statement: "Milano is not only fashion."
Irony and irreverence have been behind Seletti's irresistible allure since the brand was founded by Romano Seletti in 1972 after his travels to the Far East. Creativity and a passion for pushing the boundaries has led to the production of collections that have become modern design classics. Keeping it in the family, the Seletti clan have expanded the company's global recognition through their enthusiasm for experimentation.
CREATIVE VISION
Evolution is the only solution.
Seletti is one of the few brands that strikes a dynamic balance between house codes and the individual ideas of young designers that Mr. Seletti has involved with the brand. "We have always been driven to use a different approach both in the construction and communication of the product. It was never a choice, but a way to survive. This is our way of thinking and it's admired by many people—above all young people—who find within it the courage to grow."
Design means thinking carefully before doing anything
Seletti's appeal across categories drives the brand's innovation. Commenting on the popularity of the Estetico Quotidiano collection, Mr. Seletti adds, "In this case, our only defense was the originality of the product and its message. Obviously we could not compete with the oldest companies that already produce porcelain. The only way to insert ourselves in this product segment was to use a different language, exactly like we have done in the lighting category by creating the Alphafont and monkey lamp series. Design means thinking carefully before doing anything."
As for the future of Design Pride, Mr. Seletti is enthusiastic. "The media coverage was exceptional. We already had many new requests to participate so we're sure that this is just the beginning…"
INNOVATION IN ACTION
Special thanks to: Stefano Seletti
Photographer: Meschina & Luca Rossetti
Tags: culture