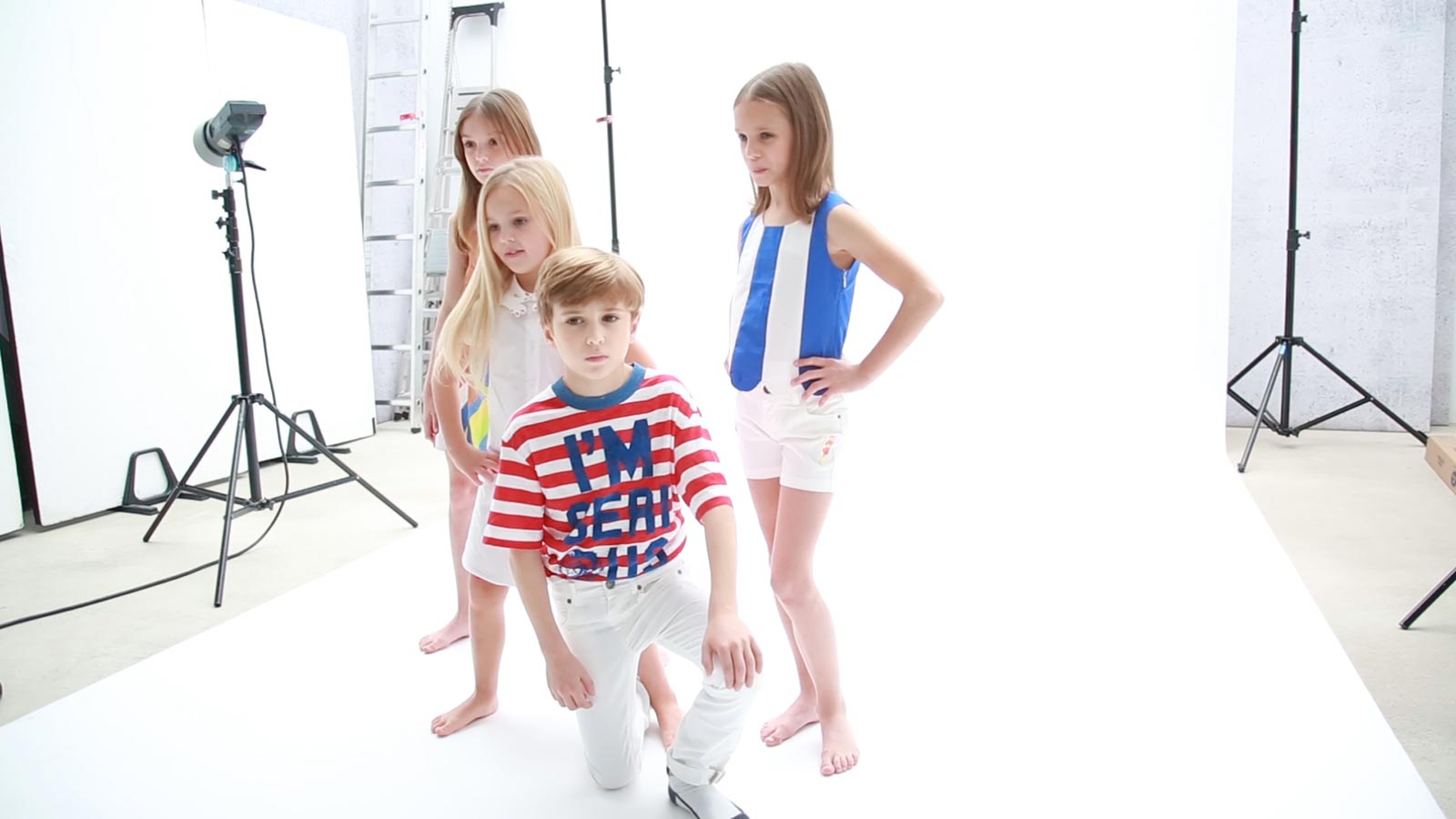 kid's wear Magazine's Petra Barkhof talks new season trends, the importance of digital and the designers to watch for Spring Summer 2016.
kid's wear is the premier magazine for cutting edge children's fashion, lifestyle and culture. From trend setting editorial spreads to the latest industry news, the magazine has gained a loyal following since first established in 1995. What began as a local print publication has evolved into a point of reference for both established and emerging talent, with an ever-growing presence both on and offline. No one knows this better than Petra Barkhof, Deputy Editor and Digital Director of kid's wear. We caught up with the savvy business woman, creative and mother during an exclusive shoot by Achim Lippoth for LUISAVIAROMA.COM.
How did you first become involved in the world of childrenswear?
Sometimes things just happen. In the 80's I moved from Germany to Milan, together with my 5 year old daughter, Patricia. One day someone from a children's model agency stopped us in the street. During that time I was searching for a job and fashion was my big passion, so I always accompanied my daughter to her photo shoots. Patricia worked a lot for Vogue Bambini, so I had the pleasure to meet legendary Carla Sozzani, Vogue Bambini's chief editor at the time. I admired her style and sophisticated vision of fashion. Two years later I became advertising manager for Vogue Bambini.
Was it something you had always hoped to do?
No, it was just coincidence. In fact, later on I changed my job and became a women's fashion editor.
When did you first meet Achim Lippoth?
I met Achim in 2004 during a lunch with his agent in Milan. His outstanding children's photography impressed me so much and gave me a completely new vision of what children's wear fashion could be.
What do you feel sets kids wear magazine apart?
The photography, the layout and the content… it is all simply unique!
What effect has social media and the growing digital market had on kids wear magazine?
Social media is magic! It brings us closer to our readers, wherever they are. Now we have a digital version of the magazine that you can download, so we can reach you even on Fiji Islands
kid's wear magazine has an indisputable charm, our photography and topics are timeless
How does the publication's approach differ between digital and print?
People love to collect the print issue. However, our way of life nowadays is getting faster and faster. With the kid's wear Magazine's website we have the opportunity to follow this fast pace and explore different areas from design and architecture to travel and lifestyle.
An increasing number of designers are modeling childrenswear after their RTW collections. What are your thoughts on this?
I love it… waiting for Prada!
Many designers are turning to eco-friendly and sustainable materials and methods of productions. Why do you feel this is?
This is fabulous! Conscious people are trying to contribute in whatever way they can to make the world a better place. We have to take care of our wonderful planet!
The trends to watch for 2016?
Black & White, Space Lords,Surf, Palms, Cactus, geometric prints…Hippy Style is an evergreen!
In your opinion, who are the childrenswear designers who are about to make it big?
Marcelo Burlon's Kids of Milan as well as the new spanish brand The Animals Observatory.
Tags: culture