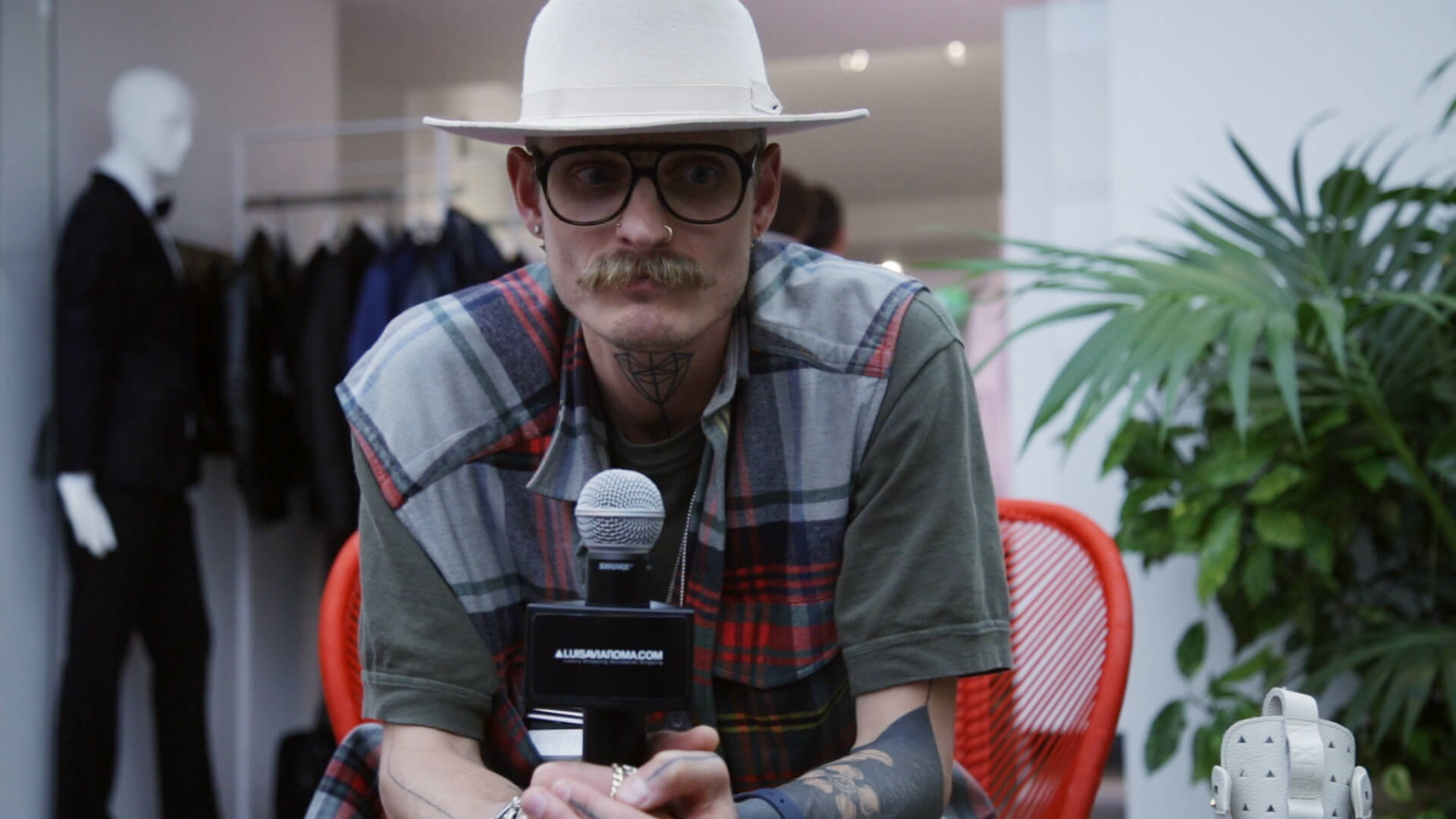 German Designer Patrick Mohr has been causing a stir for several years with his extravagant fashion shows and androgynous aesthetics disintegrating differences between sexes.
During the 13th edition of Firenze4Ever, LUISAVIAROMA was proud to welcome the designer as a special guest at the concept store. Fresh off a flight from Berlin, he presented two new projects: the Patrick Loves SpongeBob by PM collection and the new K1X X Patrick Mohr sneaker boots, designed exclusively for LUISAVIAROMA.
Not only taking pleasure in luxury, but also the wish to innovate, unites the 35 year old designer with LUISAVIAROMA. His progressive talent had already been rewarded at his graduation from the Munich fashion college ESMOD, where his futuristic designs won the "Prix Createur". Mohr's unusual aesthetics result from the combination of street culture and avant-garde fashion.
The K1X x Patrick Mohr Sneaker Boots in Off White, an original design created exclusively for LUISAVIAROMA.COM.
The collaboration with K1X started five or six years ago, tells Mohr: "Both our labels reside in Munich. K1X is well known for sneakers, especially basketball sneakers. So we thought to create a sneaker. It was a "happy" project, we just wanted to make sneakers for fun. At the beginning we made 80 pairs, but no one was interested. Then we made the MK2, the MK3, the MK4 and nothing, no success. In 2014 I made the MK5 in black, white and red, and suddenly there was massive hype about it."
It was all about feeling free for Mohr in the beginning, "I closed my eyes, went into a meditation and did the design in a minute or so." Then it became business and the initial lightheartedness yielded a new pressure to earn money for the next project – "but I love challenges, and I love to be creative under pressure."
First you might think, this shoe is crazy, it looks funny, but I think, the ones who can identify with it will recognize my handwriting.
What makes the new K1X X Patrick Mohr sneaker boots different form the previous collaborations? "I wanted to do something completely new and I wanted to take risks. It ought to be more luxurious than before. For me, it was about entering a new area and taking on a new challenge where we had no experience: in the luxury segment." And the design? "I had the design in mind for a long time; I wanted to make it real and convey the feeling of freedom on the street to who wears them. That is what my trademark stands for."
K1X x Patrick Mohr
His Patrick Loves Spongebob collection expresses this enthusiasm for changes and new concepts. As the name suggests, the collection focuses on Nickelodeon's Spongebob.
The internationally famous series deals with the adventures of the eponymous character and his sea friends in the underwater city of Bikini Bottom. Spongebob is an imaginative, limitless optimist; his world of nautical nonsense previously inspired designers like Jeremy Scott, Marc Jacobs and Pharell Williams.
When asked if he wanted to realize a SpongeBob collection about a year ago, he started out by watching everything SpongeBob. I then reflected about how to combine my world with SpongeBob's." He played around with different patterns of triangles and lines of the kind his body is tattooed with. Then he let SpongeBob dive into it or surf on it. The association of hypnotic graphics with the fun loving SpongeBob is what characterizes the collection.
At the end it becomes a unity. You wouldn't believe that those two worlds could be a good match, but they are.
Equally important to him is the everyday wearability of his designs, as striking as they might be. This is why he decided in favor of particularly simple cuts for the Patrick Loves Spongebob collection. "Spongebob is already crazy, loud and colorful, and my triangles enhance that", he comments. "Therefore I wanted to keep the pieces basic. I think anybody can feel appealed to that." His favorite item, which dominates the collection, is the sweater.
On our side, LUISAVIAROMA has no doubt: We want Mohr!
Patrick Loves Spongebob by PM
Special thanks to Patrick Mohr
This interview has been edited and condensed.
Tags: designer focus