Complicated, authentic and unapologetic. Enfants Riches Déprimés capitalizes on founder Henri Alexander's ability to understand his audience: Depressed Rich Kids.
Based between downtown Los Angeles and Paris, the fashion collective is inspired by a fusion Japanese avant-garde 80s style with French punk streetwear. Relying heavily on concepts of deconstruction and DIY, the brand gives off a rebellious yet exclusive attitude that takes a stand against the rigidness of fashion.
Enfants Riches Déprimés is synonymous for me, my art, and anything I produce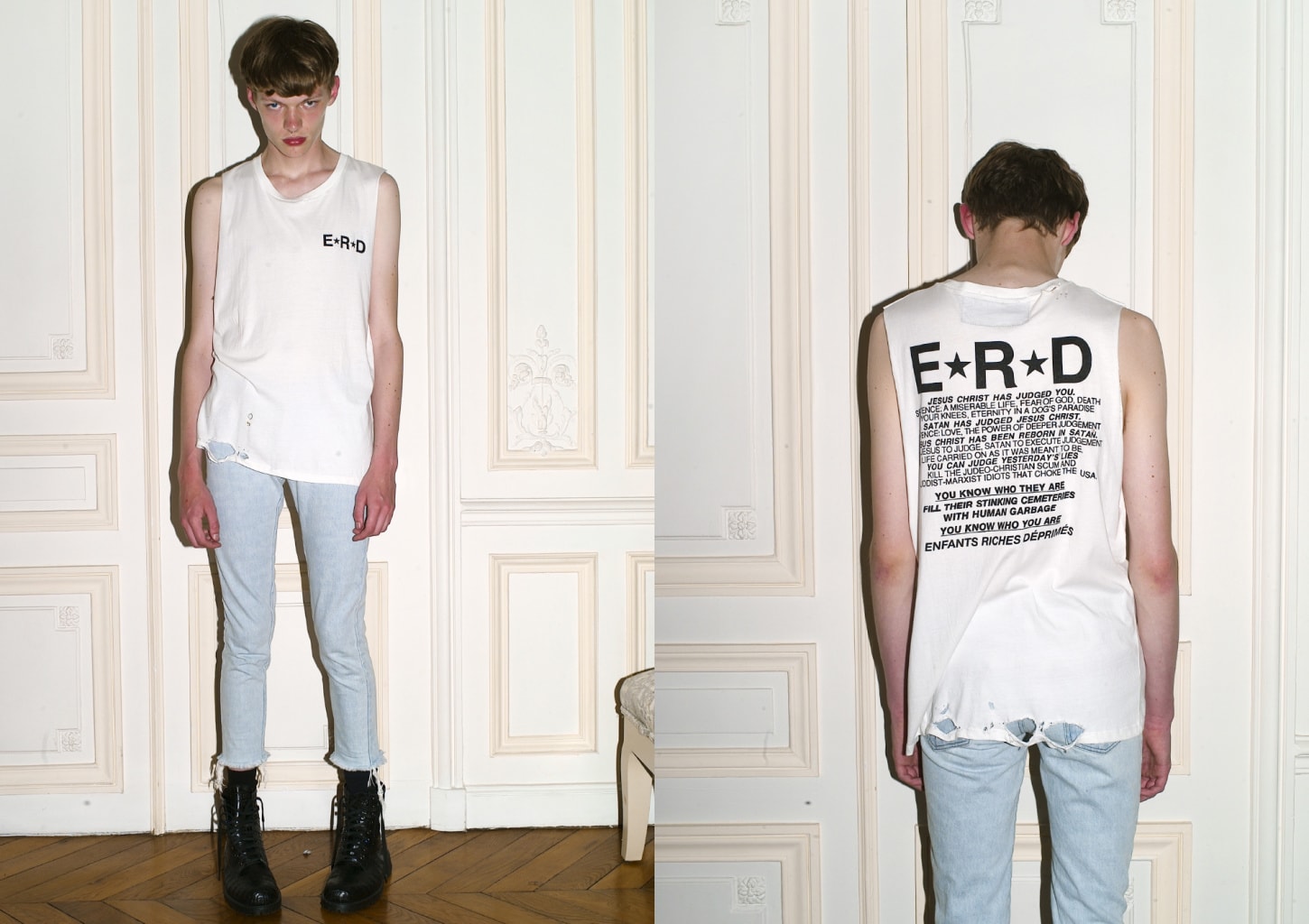 Can you tell us about the beginning of the brand?  Where did it all start for you?
I started the brand in late 2012.  I was in my third year of art school at UCLA.   At the time, there was a complete void in the market for a product that paralleled luxury with dark concepts. 
Take us through the creative process.  What goes into creating each collection?
I start designing each season by making a series of paintings and drawings.  The paintings establish the color palette for the season and the drawings develop into graphics that will be utilized for various styles.  During this period, I am always listening to and making music, as well as creating collages, zines, and taking photographs.  The end result of the collection is a pastiche of these works and ideas that I have curated to form a seamless and cohesive collection.
What is the first thing that comes to mind?
Fashion is… a business of trends and very few originals.
Punk is…. undefinable.  To do so would be antithetical to the very spirit of it.  Moreover, any attempt at a definition would limit its potential impact.  At this point, it has either disintegrated into cheap products for mass consumption, or has evolved into something.
Three people—dead or alive—you would love to wear ERD, and why?
Benicio del Toro, Stiv Bators and Brian Jones.
Benicio del Toro because he looks like a scumbag.  He is one of my favorites. 
Stiv Bators, the lead singer of The Dead Boys, is one of my style icons. 
Brian Jones, founding member of The Rolling Stones, needs no explanation.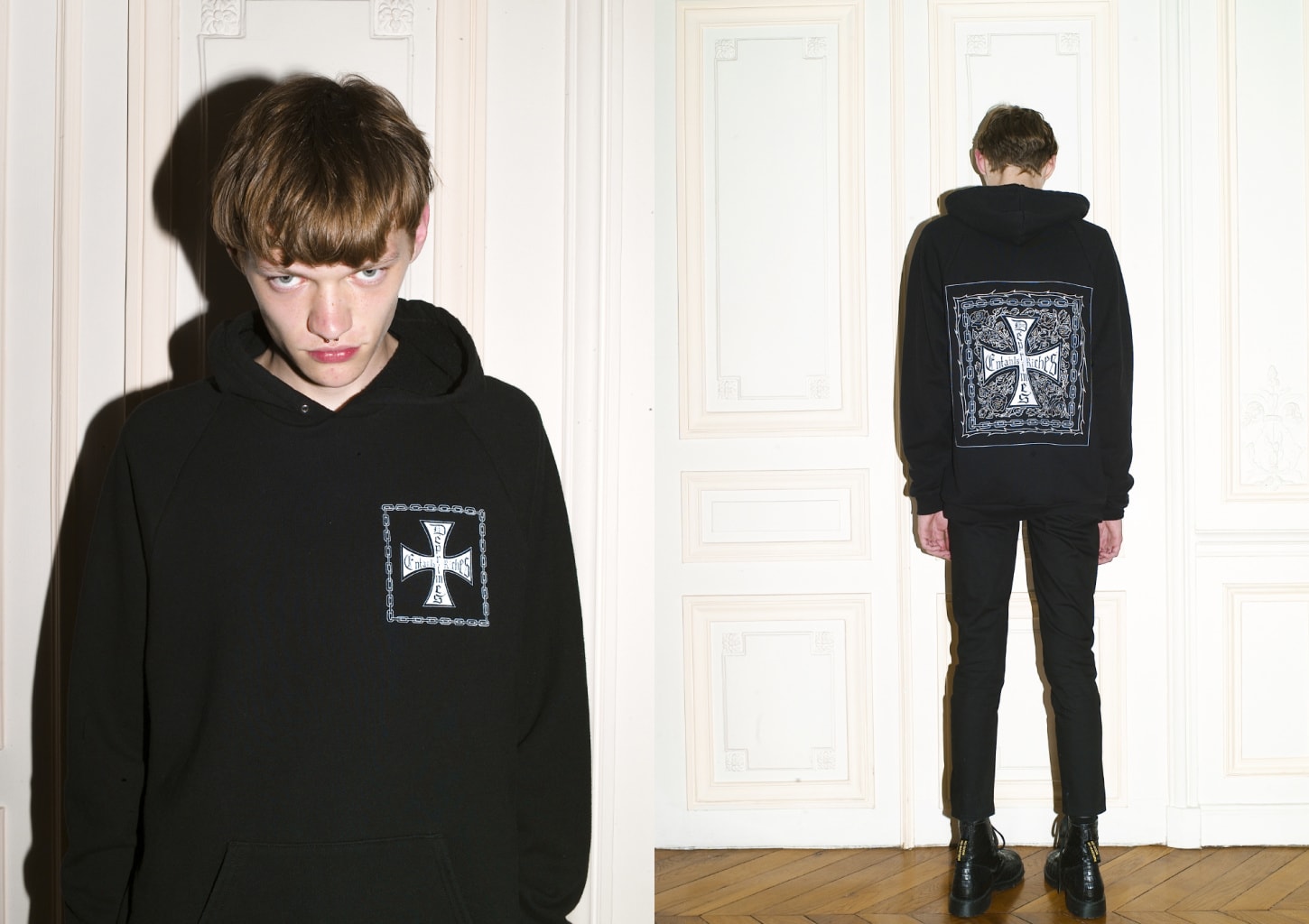 What are you listening to at the moment?
"Cassie" — Part Time
"Telegram" — Brian Jones Town Massacre
"I Am Damo Suzuki" – The Fall
"Age of Consent" – New Order
"Hallogallo" – Neu!
What is one think people mistake about you all time?
People think I'm older than I am. 
Something you want people to know about you (that they probably didn't)
I show my paintings and sculptures throughout the year in various galleries.  People are much more familiar with my clothes than my artwork, although to me, they are one in the same.
If you weren't designing, what would you be doing?
Drugs and/or painting.
What's next?
Currently, I'm working on my Fall 2017-2018 collection, as well as new drawings, paintings, and music projects. I'm also working on an illustrative book, which is a take on The Little Prince.
Special thanks to Enfants Riche Déprimés
Tags: designer focus