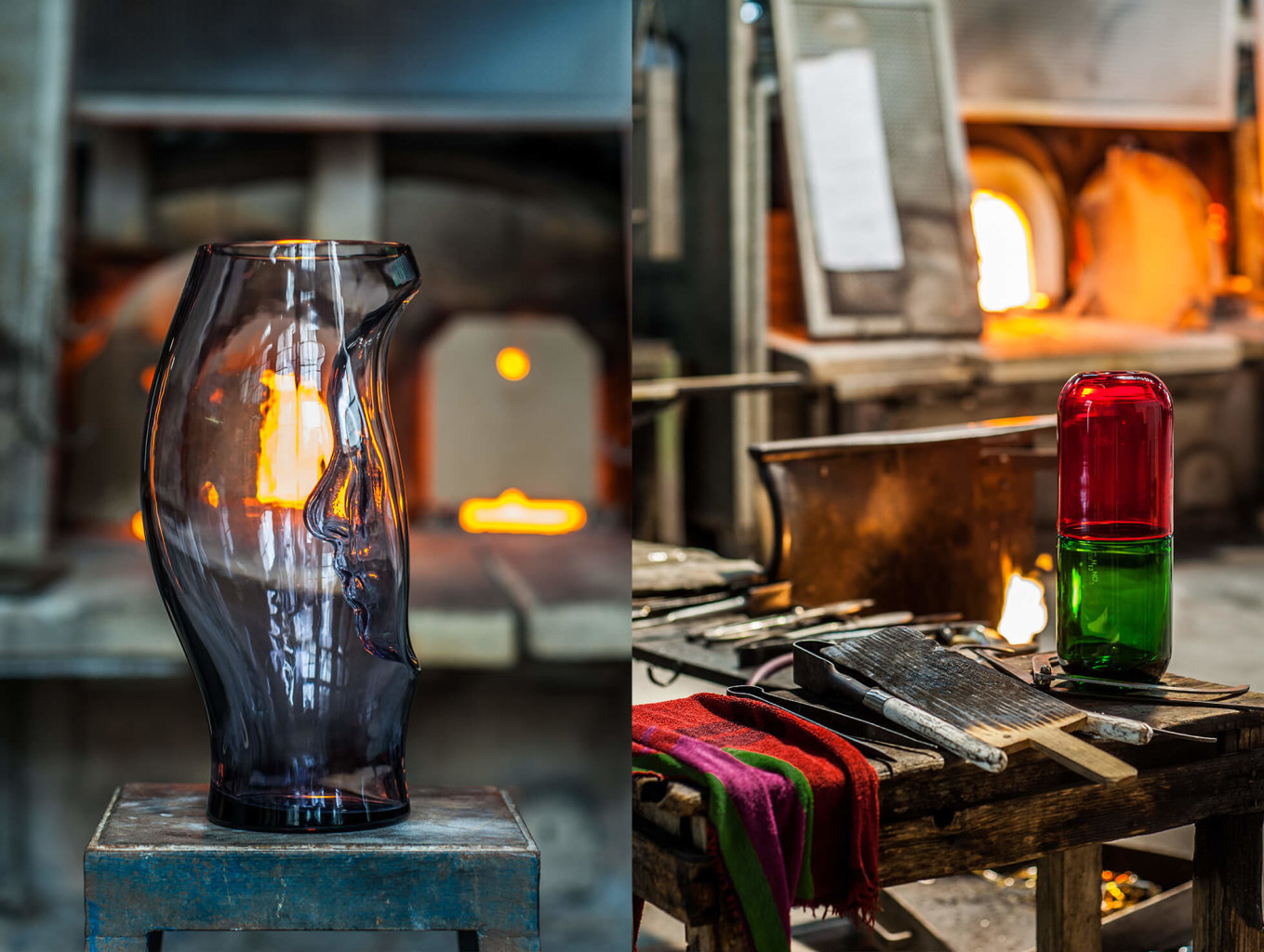 The Venini furnace of Murano is built upon the foundations of style, creativity, artistic tradition and passion. Since 1921, artists of international stature have been bringing their visions to Venini.
True artworks of blown glass, each Venini piece is the perfect balance of centuries-old techniques and contemporary design. Venini's master craftsmen collaborate with a number of talented designers to produce one of the most important collection in the Italian glassmaking world.
VENINI has always combined tradition with innovation.
Tell us about Venini's connection to Venice. What does Venini share with Venice and Murano?
Venini is very connected to the city of Venice, it's part of its history since 1921. Thanks to Paolo Venini, the founder of the company, numerous artists, architects and designer where brought to Venice and Murano to discover the beauty of glassmaking. With them, Venini has always taken part in all the most important exhibitions in Venice, such as the Biennale, presenting today and in the past, new collections.
How does an idea become a piece of glass art at the Venini workshop?
Venini, since its establishment, has been famous for working with external designers. Venini has a structured technical office that follows step by step all the creative minds that cooperate with the company. From the drawing until the first prototype.
Some of Venini's quirkier pieces feature "happy pills" or a glass lamp in the shape of a breast. Where does this inspiration come from?
Both these collection have been designed by external designers, Fabio Novembre and Studio Job. Concerning the Happy Pills the inspiration comes from the modern society, in which, Fabio said, everyone needs to take a pill to be happy. Every pill is actually a hormone and has its chemical formula engraved on the glass surface. The second Collection, "tits" was designed by Studio Job. It's been designed for a restaurant which hosted a Plastic Surgery convention.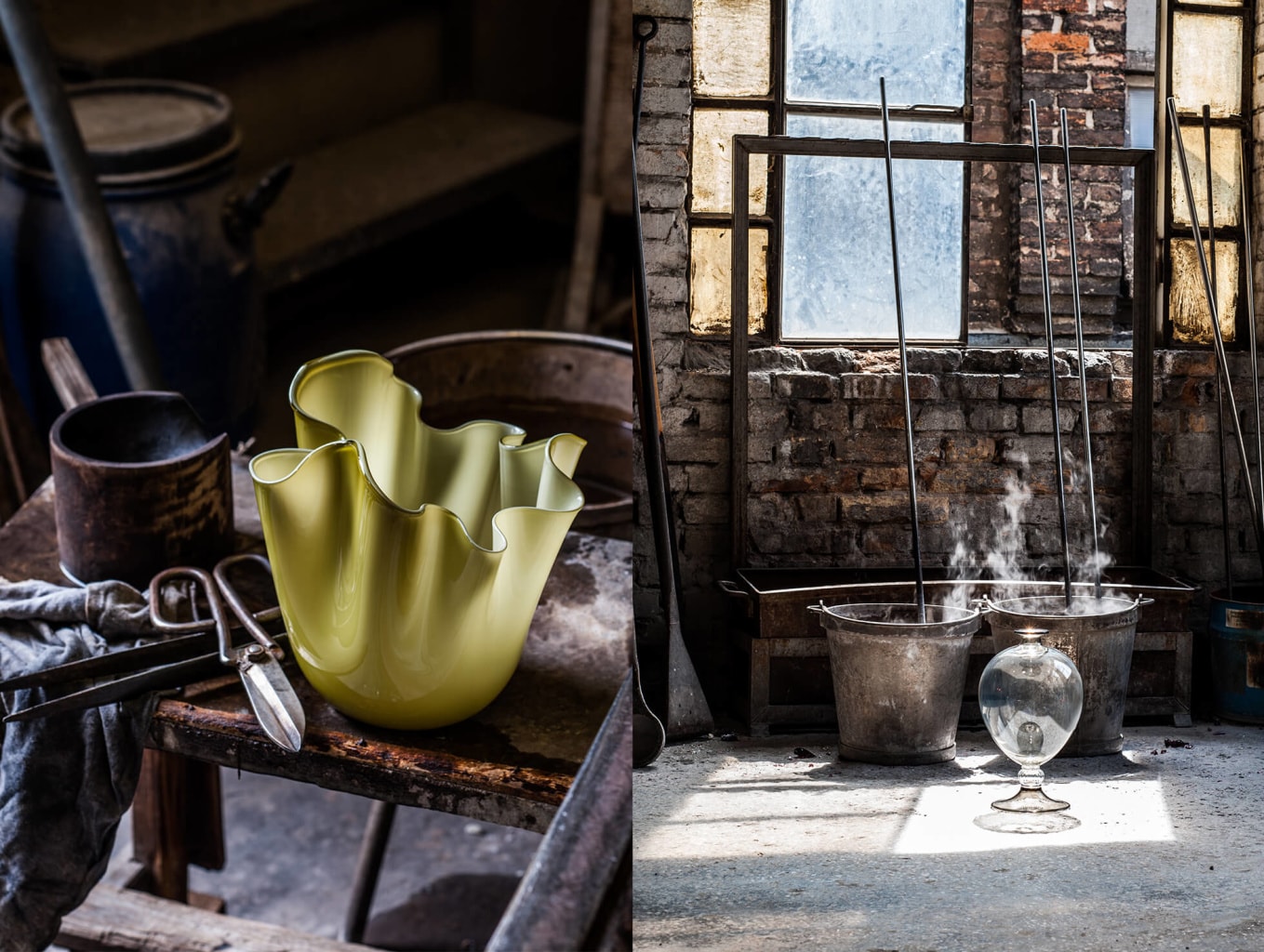 Glass is an unpredictable material and even the most important names in the industry of design have to study and understand it before producing something new.
What are some of the innovations coming out of the Venini workshop today?
Nowadays if we talk about innovation we are very proud of the art-piece we created with Emmanuel Babled, Simbiosi and Simbiosi wood, an art-piece that combines glass with other materials such as marble and wood. With the same concept, but combining leather we created Pistillo, Stelle Filanti and Celesti, by Atelier OÏ.
How do artist collaborations with Venini develop?
Normally artists, architects and designers send us the first drawings that are adapted by our technical department. Sometimes designers have to study the material, as glass is very unpredictable. You must know it and its techniques to design a new series of vases and chandeliers. Then we try to develop new collections also by analizing what the market requests, in terms of colors, dimensions, shapes, etc. Our Art Director, Architect Roberto Gasparotto, oversees all of the process.
Fabio Novembre recently collaborated with Venini to create a glass vase that combines the carnival and glassmaking traditions of Venice. What is magical about working with glass and how is Venini unique in its interpretation of the material?
Working with Venini is still nowadays the object of desire of many artists. It is very attractive to try to design something with glass because it's one of the few materials that you have to shape without touching it. Many designers and artists get fascinated by the production process, which clearly is unique in the world, and by the history of Venini, that features some of the most renowned artists and designers of the 20th century.
Special thanks to: Venini
This interview has been edited and condensed.
Tags: designer focus, design