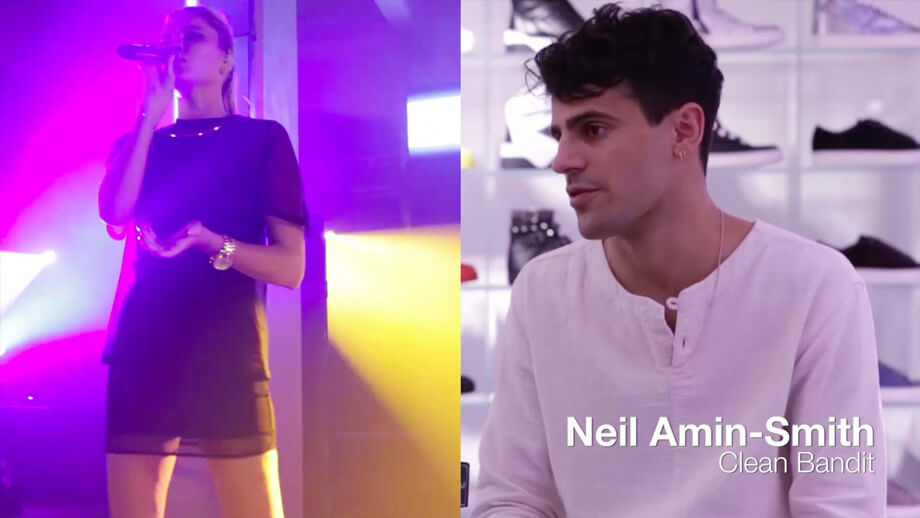 Known for their compelling mix of visionary electronic and baroque pop, UK music sensation Clean Bandit are as stylish as they are talented.
Since founding the group in 2008, Grace Chatto, Neil Amen Smith, and brothers Jack and Luke Patterson have continued to take the world by storm. Their hit track Rather Be Ft. Jess Glynne set the soundtrack for the Summer of 2014 , smashing numerous records both in the UK and abroad.
It has been a busy year for the group, who apart from winning the Grammy for 'Best Dance Recording' are also in the running for Song of the Year at the upcoming Brit Awards.
Between sound checks and shopping, we managed to get in a quick chat with Grace and Neil who shared how they feel about fashion, music and their own style.  Neil opened up about the evolution of the band and how Jess Glynne's vocals "took the track to another level, going on to explain what it's like to go from a young group to internationally touring artists with a chart-topping single. Grace pointed out the band's penchant for "black and white, broaching the subject of style and the importance fashion plays in each performance.
Although they admit to dressing 'sports-luxe,' each member's unique style was apparent when they hit the stage. The foursome embodied effortless cool, mixing new season Valentino and CC by Camilla Cappelli with vintage pieces for a look that perfectly complemented the group's eclectic sound.
Clean Bandit are currently promoting their latest album New Eyes, released by Warner Music.
Tags: sound of style